Commercial Snow Removal in Calgary Area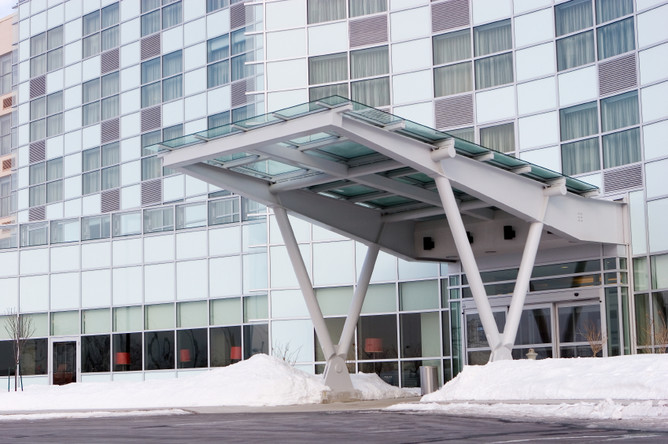 Snow removal services in South Calgary starting at just $249.00 a month!
Call 403-903-6362 for a FREE quote!
YOUR CUSTOMERS' SAFETY IS OUR PRIORITY!
Allowing customers and employees to access your parking lot and buildings safely in the winter is of utmost importance to you. Choose a reliable company that can meet their commitment to you on time is an important choice, especially during an Alberta winter!
Result Landscaping clears pathways, sidewalks, access areas, and loading areas around business premises, as well as small parking lots and driveways. Result Landscaping also has the equipment and tools to clear large-scale parking lots and thoroughfares, because the safety of your employees and customers is paramount to the running of your business.
We guarantee that snow is cleared within 24 hours of snowfall ending – but don't worry! In the event of a snowstorm, we're monitoring and maintaining ground conditions, and responding on the fly for maximum efficiency of our team and the safety of our customers and yours.
Our commercial contracts run from November 1st until March 30th and depending on your needs may include:
Seasonal snow removal starting from just $249
Parking lot sanding from just $100
Roof Snow Removal starting from $300
Christmas light set up/ removal from just $200
As professionals and business-owners, we know how snow can impact YOUR business.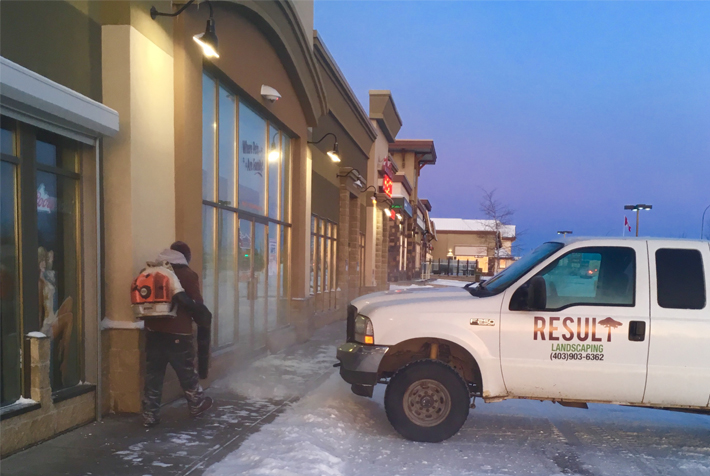 We Are the Best Snow Removal Experts in Calgary!
No job is too big or too small. Request a free quote today! 403-903-6362
DOESN'T MATTER WHAT, WE WILL CLEAR IT
We are happy to clear roofs, sidewalks, pathways, patios, driveways, steps, parking lots, and even lawns. We're also a great value for the money.
GETTING THE JOB DONE QUICKLY AND SAFELY
There are a number of best practices that the Result Landscaping team employs in order to shovel out the smaller spaces of your home or business neatly, safely, and efficiently. Watch us:
Gauge how wet the snow is – wet snow is much heavier than dry snow so we plan accordingly!
Warm up – Like any physical activity, we warm up carefully to protect our body
Push the snow rather than lift – Pushing snow is easier on the body
Avoid throwing snow over our shoulders – Dramatic attempts to clear your property are funny, but not efficient.
Pace ourselves – The size and shape of the area to be cleared by hand helps us decide how fast to work.
Cool down – Just like other 'cardio' exercises, it pays to stretch and cool off properly.
Stay hydrated – It's winter in Alberta! Shoveling is a great reason to drink enough water.
Carry on – We'd love to stay and admire our work, but the truth is, we're off to our next client.
IT'S NOT TOO LATE
Even if the winter season has started and you're concerned that it may be 'too late' to take action to make your premises safer in the winter, winter is actually the ideal season to assess your snow and ice removal needs. It's far better to draft a snow and ice management plan while looking at a snowscape than to create a plan relying solely on your memory of how the premises looks in the wintertime.
WE'RE FULLY INSURED
There are a number of stakeholders who require protection on a commercial premises and this was exactly the reason that businesses need to make sure that they have adequate insurance. Consider the financial impact that one insurance claim could have on a business that is underinsured. Next consider the following list of people that could file a claim:
Property Owners
Property Managers
Property Tenants
Service Providers
Customers and clients
DON'T GAMBLE WITH SAFETY
It's imperative to ensure that insurance coverage is adequate – consider that the downward pressures of snow and ice management pricing for services may result in less than adequate coverage. As a business who may one day find themselves named in litigation, consider whether a 'budget' service provider is the solution with best value. We agree that insurance and liability can be a confusing area of our business, and we're happy to assist you. Ask us about:
Commercial Auto Liability coverage for vehicles performing services on your property
Workers Compensation coverage for employees and operators and subcontractors
Commercial (General) Liability coverage for snow and ice management
OUR PROVEN APPROACH
We understand that when the snow flies, you've got to get it cleared away. However, there are definite advantages to hiring a professional company like Result Landscaping! We ensure that our team is trained C-D-V to ensure that you are satisfied with the service you receive from us, both from removal to removal and winter after winter.
OUR STAFF LIKES TO COMMUNICATE!
We are pleased to share that our staff and operators are kind and courteous people. Winter is a busy time for us but they've joined our team because they like helping customers. When you contact us to arrange a contract, we pride ourselves on being as thorough as your site requires in order to clear your snowfall efficiently and safely. Conversely, if there is something we need to communicate with you, rest assured that we'll speak to you either on site or by phone as quickly as possible.
WE MAKE DOCUMENTS!
As much as we enjoy being outside, we know the importance of office work as well. We believe that a 'paper trail' helps us meet our service goals with our customers. You can be sure that once we do business together, we have a file with your name on it! It contains our service contract and expectations, a site plan, a service log, payment history, and other pertinent information that keeps us on track as your service vendor.
WE VERIFY YOUR EXPECTATIONS!
In order to be sure that we meet your needs and our service standards, expect us to check in with you from time to time to ensure that everything we do for you is as we have agreed. Quite often customers who have professional snow removal for the first time find it to be different than doing the work themselves. Over time and with communication, a trusting rapport develops.