Residential Snow Removal in Calgary
South Calgary Snow Removal
Snow removal for your home! Call 403-903-6362 for a FREE quote!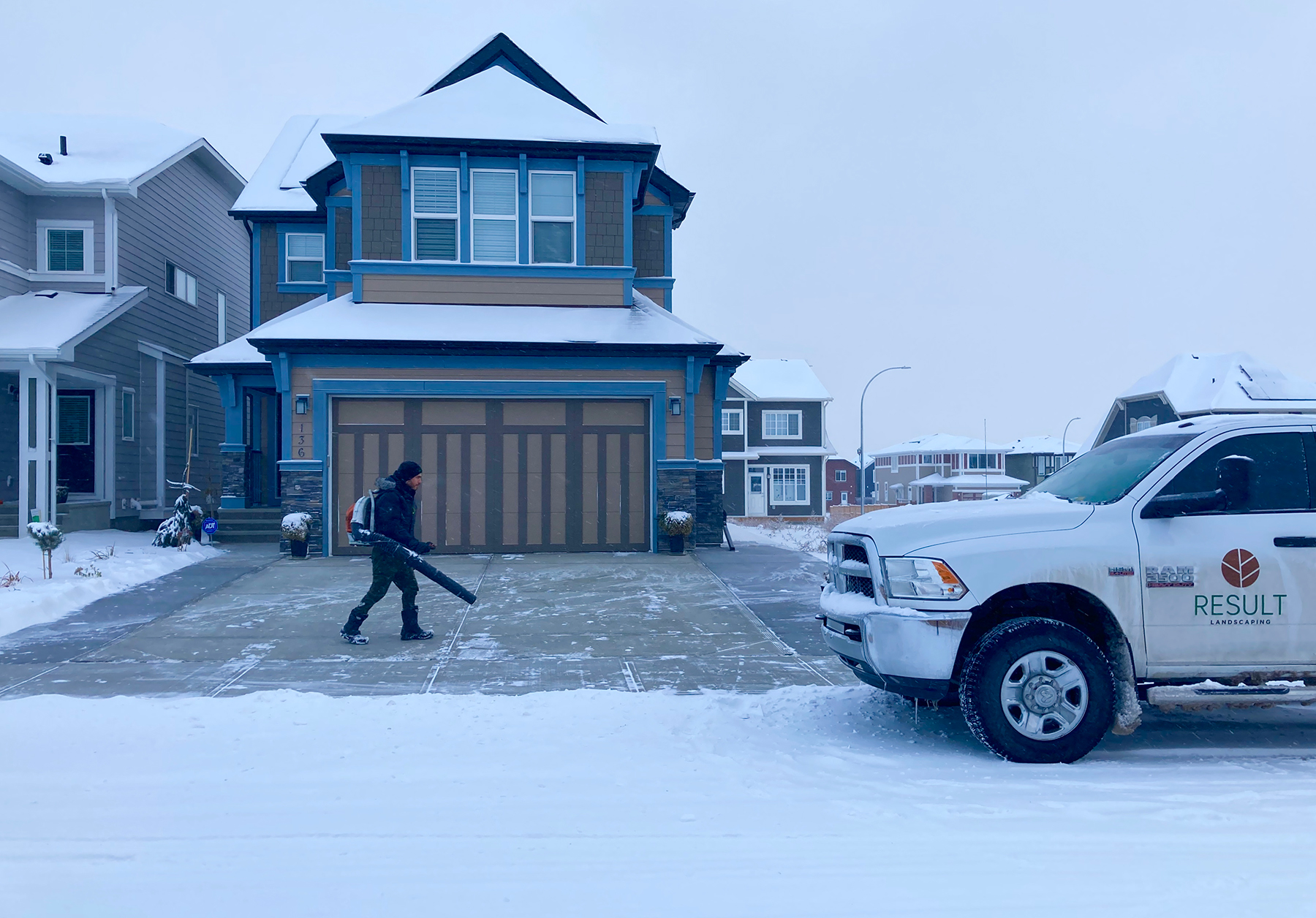 As Calgary's preferred snow removal company, our extensive experience allows us to make sure your covered this winter with top quality equipment and motivated employees. Finding a reliable snow clearing company can seem tough but we're here to give you piece of mind. We match our professionals and equipment with the size and layout of your property to efficiently remove snow on your property.
Snow Removal Contract Details:
Full Season 6 Month Contract: October 15 - April 15 sign up for 6 months and receive all snow clearings BEFORE or AFTER the 6 months for FREE!
Winter Season 5 Month Contract: November 1st - March 30th 5 months of the year. (Snowfalls outside of the dates are not covered)
We come out within 24 hours of the snowfall ending (Majority of the time we are out much faster)
For continuous snowfalls that occur over several days we will make daily visits
We use a combination of Backpack Blowers, Snow Blowers, Shovels and Scrapers depending on the snowfall.
Crews start at 7:30am
On Small to Medium snowfalls we aim to finish by 2pm
Payments are due at the end of each month (Cash, Cheque or Etransfer are the options)
Unlimited amounts of snow clearings per month included even if it snows everyday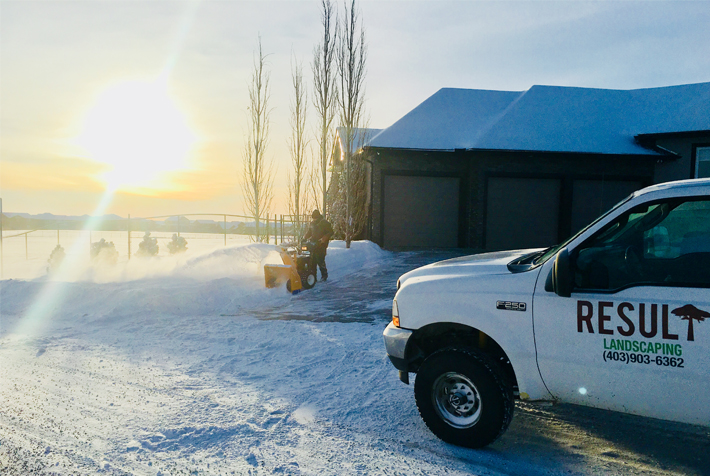 From inside your home, snow makes you feel cozy – it's a different story trying to shovel your walkway, driveway, and sidewalk by yourself during a major accumulation. Don't worry about your back, your heart, snow removal bylaws, or your additional properties this year – leave the clearing to Result Landscaping.
We are happy to clear your roofs, sidewalks, pathways, patios, driveways, steps, parking lots, and even lawns. Whatever your needs, big or small, we're here to assist you.
Our service is reliable and professional and our service goal is to make your life easier and safer…faster! Your peace of mind comes from knowing that we offer great value and great service. Result Landscaping is also fully insured.
Whatever your snow removal needs, we can meet them in a timely, efficient, and safe fashion! Whether you're interested in retaining Result Landscaping for the entire season, or just for major snowfalls, we tailor our services to fit your lifestyle and seasonal conditions.
While our per-snowfall rates are reasonable, experience true savings by opting for continual snow removal service. Starting at just $160 per month, we'll keep your property clear and safe from November until March. You'll see us from late fall onward, regularly visiting your property to remove snow and ice with no 'extra' charges – just great service as outlined in your contract! We think you'll find that our price is more than reasonable too. Contracts run from November 1st til March 30th. We clear your snow within 24 hours of snowfall ending.
Depending on your needs, your custom package may include:
Seasonal snow removal starting from just $160
Roof Snow Removal starting at just $199.00
Christmas light set-up and removal from just $249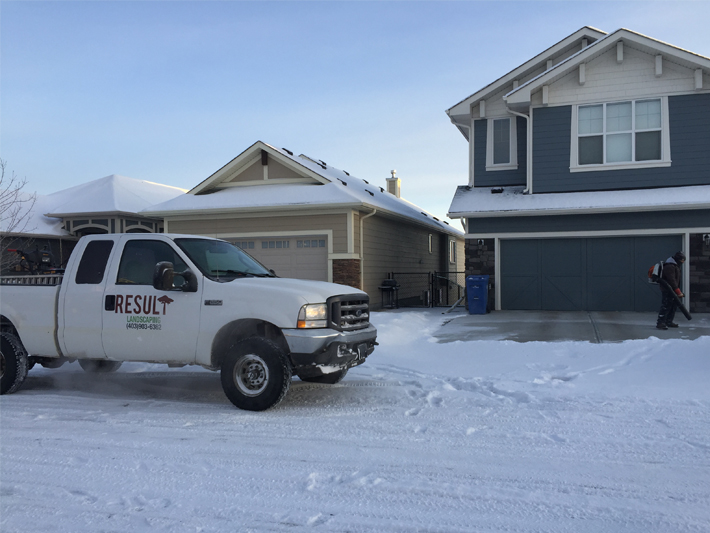 We Are the Best Snow Removal Experts in Calgary!
No job is too big or too small. Request a free quote today! 403-903-6362
At one point or another, almost every homeowner weighs the merits of buying a snowblower to keep their premises free from snow accumulation. Because of the cost of such a purchase, most customers decide against buying machinery like this year after year. Let Result Landscaping help you with that decision! With our snow removal packages, a residential homeowner can have snow removal services for several years before spending what it would cost to the equivalent amount on the cost of a snowblower!
SAFETY MEANS WE ARE ALWAYS ON THE JOB AND NOT HURT AT HOME
In clearing your pathways, roofs, sidewalks, patios, steps, and lawns, there are a number of best practices that our operators use in order to complete these smaller spaces quickly and safely. We will:
Gauge the density of the snow – everyone knows that wet snow is much heavier than 'powder'. We plan accordingly.
Warm up – Call it a combination of 'cardio' and 'strength training'! We make sure we're ready for your snowfall.
Push the snow rather than lift – Lifting snow is difficult and can be hazardous
Avoid throwing snow backward – While it looks like this is effective, throwing snow like this just isn't efficient enough for the Result Landscaping team.
Watch our pace – The logistics of your property and the amount of snow to clear help us decide our working speed.
Stretch afterward – Just like a warm up, a cool down period at the end of shoveling helps us stay flexible.
Drink lots – Wintertime in Calgary is dehydrating enough without the workout.
Continue to our next customer – We'd love to stay and admire our work but we stay warm by quickly going from client to client.
PROFESSIONAL BEST PRACTICES…FOR SNOWPLOWING?
As we discuss throughout our site, we like our customers to know that they should be looking for a professional snow removal company that has best practices that guide how, when, and how frequently we tend your property. Creating a plan for each of our clients ensures that we are able to improve our practices year after year and enables us to remain efficient by sending only the necessary resources and personnel to your property.
ESTIMATING
In our industry, we find that quite often our residential, commercial and industrial clients are pleasantly surprised to find out our pricing for regular snow removal. On every point, you'll find that Result Landscaping offers competitive rates and services that cater to the unique needs of your site. We provide estimates for our clients in line with our current pricing structure and based on a description of your site, coupled with your service needs. Each premises is unique – in order to best meet your needs we will provide you with a custom estimate at your request.
PLANNING AND COST-EFFECTIVENESS
Estimating, planning and cost-effectiveness are three pieces of the puzzle that any customer should be ready to evaluate when they commence looking for a snow removal service provider. Consider how the three factors affect one another. By providing a current and accurate estimate to our new and potential customers, we gain our customers trust. Our 'no surprises' philosophy ensures that we start our business relationship in the best possible way. Providing an individual estimate instead of a 'one-size-fits-all' estimate ensures that we've had the opportunity to assess your site and informally structure a plan for snow removal on your property. Having provided this information to you and firmed our agreement allows Result Landscaping to move onto the next stage which is critical in a snowfall situation, that of planning the most efficient route based on each site needs. Having an efficient route for pre-maintenance and snow removal ensures maximum cost-effectiveness for our customers.
Neighbourhoods Served:

Mahongany, Auburn Bay, Cranston, Chaparral, Walden, Legacy, Silverado, Bridlewood, Evergreen, Shawnessy, Somerset, Sundance, Mindapore, Lake Bonavista, Deer Ridge, Mckenzie Lake, Quarry Park, Douglasdale, Riverbend, Mckenzie Towne, New Brighton, Copperfield, Canyon Meadows, Willow Park, Acadia, Haysboro, Southwood, Canyon Meadows, Cedarbrae, Bradeside and Woodbine

Call us at: 403-903-6362